About Us
Who Are We?
DeSimone Carpet Cleaning has proudly served the (Tri-Valley) and portions of the Contra Costa & Alameda counties since 2002. We are family owned and operated and live in your community. We take pride in our work and the services we provide! Renting a portable from your local grocery store could run you about the same price as our 3 room special after all is said and done. We know your time is valuable! So don't waste your time breaking your back & trying to do it yourself. Call the Professionals at DeSimone Carpet Cleaning to get "The Best Clean You've Ever Seen"!
We offer the finest in Carpet and Upholstery cleaning for both residential and commercial properties. For more information and what You need to do in preparation before our arrival, click on our Carpet Cleaning Services page.
Going the extra mile
Desimone Carpet Cleaning services these cities in the SF Bay Area:
Livermore
Pleasanton
Dublin
San Ramon
Danville
Alamo
Brentwood
Mountain House
2-Step Process
How do we compare to the average carpet cleaners? We call them the "Wet & Jet" cleaners. Their way of cleaning is likened to: taking a shower, wetting & shampooing your hair, and then getting out & drying off. They tend to forget one very important step; THE RINSE! With our method we extract all of the soap residue from your carpets with a DEEP FIBER RINSE, leaving your carpets cleaner longer and having less chance of re-soiling.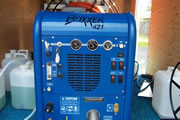 Our Equipment - "Boxxer 421"